Spain
Things to do in La Pedrera - Casa Milà
Casa Mila, also known as La Pedrera, is one of the best preserved of Gaudi's buildings in Barcelona. This is thanks to the tireless work of the Catalunya-La Pedrera Foundation, which undertakes to clean and restore the building. Right now, you can see the façade in the same condition that Gaudi himself would have seen it.
A UNESCO World Heritage Site since 1984, La Pedrera is already recognised as a piece of unique architecture, but keeping it well tended in such a busy modern city can be a challenge. Work includes cleaning the stone and repairing the wrought iron balconies – a more delicate task than you'd think because the façade is not part of the building fabric. Rather it is fastened on to pillars and is in some ways a separate piece.
Typical restoration work includes filling cracks, removing rust, welding metal, replacing tiles and repainting shutters. Balconies are waterproofed to prevent damp or discolouration. The process of complete renovation has happened three times since construction was completed, most recently in 2014-15.
Opening hours
Monday-Sunday 9.00am- 8.30pm and 9.00pm to 11.00pm
About Casa Mila (La Pedrera)
'La Pedrera' translates as 'stone quarry', a reference to the rough and apparently natural stone façade of the building. It was commissioned by Pere Milà as a family home and rental apartments in the up-and-coming Eixample district. Its single façade hides two separate blocks with two courtyards within.
Ironically, initial impressions of the finished buildings were not favourable. The press made fun of it, comparing it to an Easter cake, and other residents of the Passeig de Gràcia believed it was a joke that would lower the value of their own houses. Mr Milà became quite unpopular as a result.
Casa Milà was actually one of Gaudi's last works in the city and some say his most creative expression of the Modernisme architectural movement. Still, his relationship with it ended badly when his religious fixation compelled him to install a large Virgin Mary on the roof. Mr Mila wasn't very keen and Gaudi abandoned the project.
It is now a cultural centre housing art exhibitions, debates and performances in the same challenging spirit of its architect. When you visit, be sure to see the attic and roof. The bizarre chimneys look like giant ice-cream treats and you might also catch concert in summer. The apartment floor below is an entirely different view of Gaudi's work, demonstrating how his artistic eye affected everything from light fittings to handles and from windows to door frames.
Address
Casa Milà (La Pedrera), Passeig de Gràcia, 92. 08008, Barcelona.
Getting there
Lines 7,16,17, 22, 24 and V17
Lines 3 and 5, estació Diagonal
RENFE to Passeig de Gràcia
Our recommendations in La Pedrera - Casa Milà
How to get there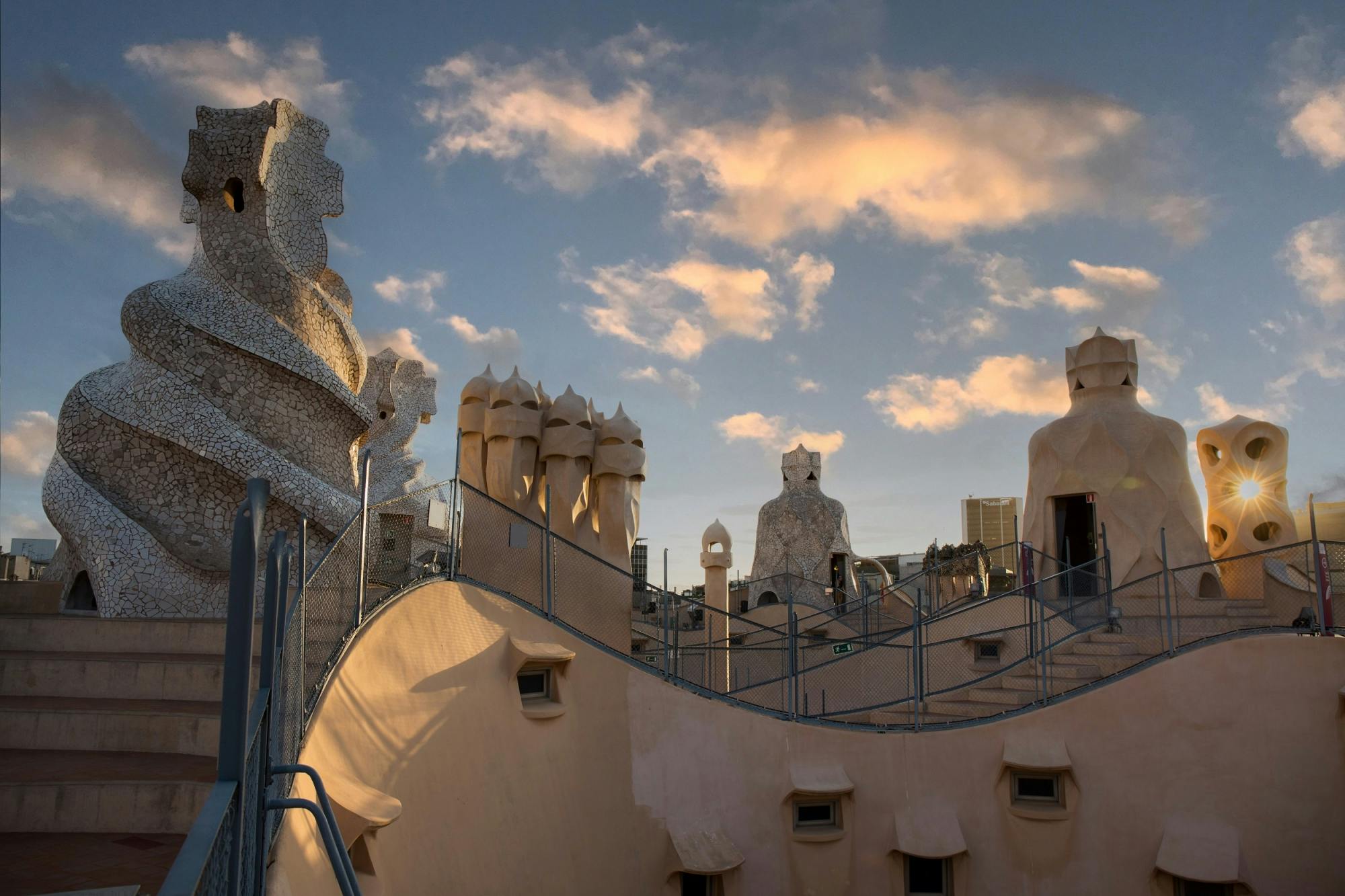 Reviews La Pedrera - Casa Milà
"Loved our guide and the info we learned during the tour. Don't miss this experience!!!"
"very cool way to explore Barcelona's amazing art"