Spain
Things to do in Park Güell
The essence of Gaudi's architecture is its fascination with nature and natural forms. In Park Guell, nature collaborates in the experience. Originally a hill, the land has been reshaped into different forms but always with respect to the original contours.
For example, there's a 60m (197ft) difference in elevation between the different levels of the park and Gaudi used a winding path rather than a direct route so that visitors can feel the shape of the land as they move around it. The original curves and gaps of the hill have been preserved, influencing the architectural features. When once the earth was barren, Gaudi ensured that cisterns would collect rainwater to feed the vegetation he planted.
Look carefully and you'll see nature in every piece of man-made work. The paths wind like rivers, columns are sloped or twisted like trees, and interior spaces are cave-like with stalactite forms. Everywhere, the architect has ensured that native aromatic Mediterranean plant species flourish: palm, carob, pine, cypress, fig, almond, plum, lavender, thyme, sage, mimosa and magnolia.
Opening hours
30 October - 26 March
8.30am-6.15pm (last entry 5.30pm)
27 March - 1 May
8.00am-8.30pm (last entry 7.30pm)
2 May - 28 August
8.00am-9.30pm (last entry 8.30pm)
29 August - 29 October
8.00am-8.30pm (last entry 7.30pm)
About Park Guell
The park was originally commissioned by Gaudi's patron Eusebi Guell and was intended to support a number of residential buildings. Like many of Gaudi's projects, however, it was never fully completed. Only two of the proposed 60 villas were ever built (one of them belonging to Gaudi himself – now a museum).
Work on the park began in 1900 and took fourteen years, after which time Gaudi became distracted by the Sagrada Familia. By 1923, the park became the municipal property of Barcelona and in 1963 Gaudi's house was converted into the Gaudi Museum.
UNESCO World Heritage status was conferred on the park and on Gaudi's other structures in the 1980s. It has since become one of the city's most popular attractions thanks to the huge imagination invested in it. Visitors experience multiple forms and techniques that together have a strange, dreamlike quality and which are a real pleasure for photographers. The central feature is the covered market: a fairytale forest of columns surrounded by a rolling stone bench decorated with ceramic mosaic.
Don't forget to say hello to the decorative dragon as you enter the park. It's become an unofficial symbol of Barcelona and of the Catalonian spirit.
Address
Carrer Olot 5, 08024 Barcelona, Spain
Getting there
Green line (3) to Vallcarca or Lesseps stations
Lines H6, 32, 24 and 92
Bus Turístic (blue line) and Barcelona City Tour (green)
Our recommendations in Park Güell
How to get there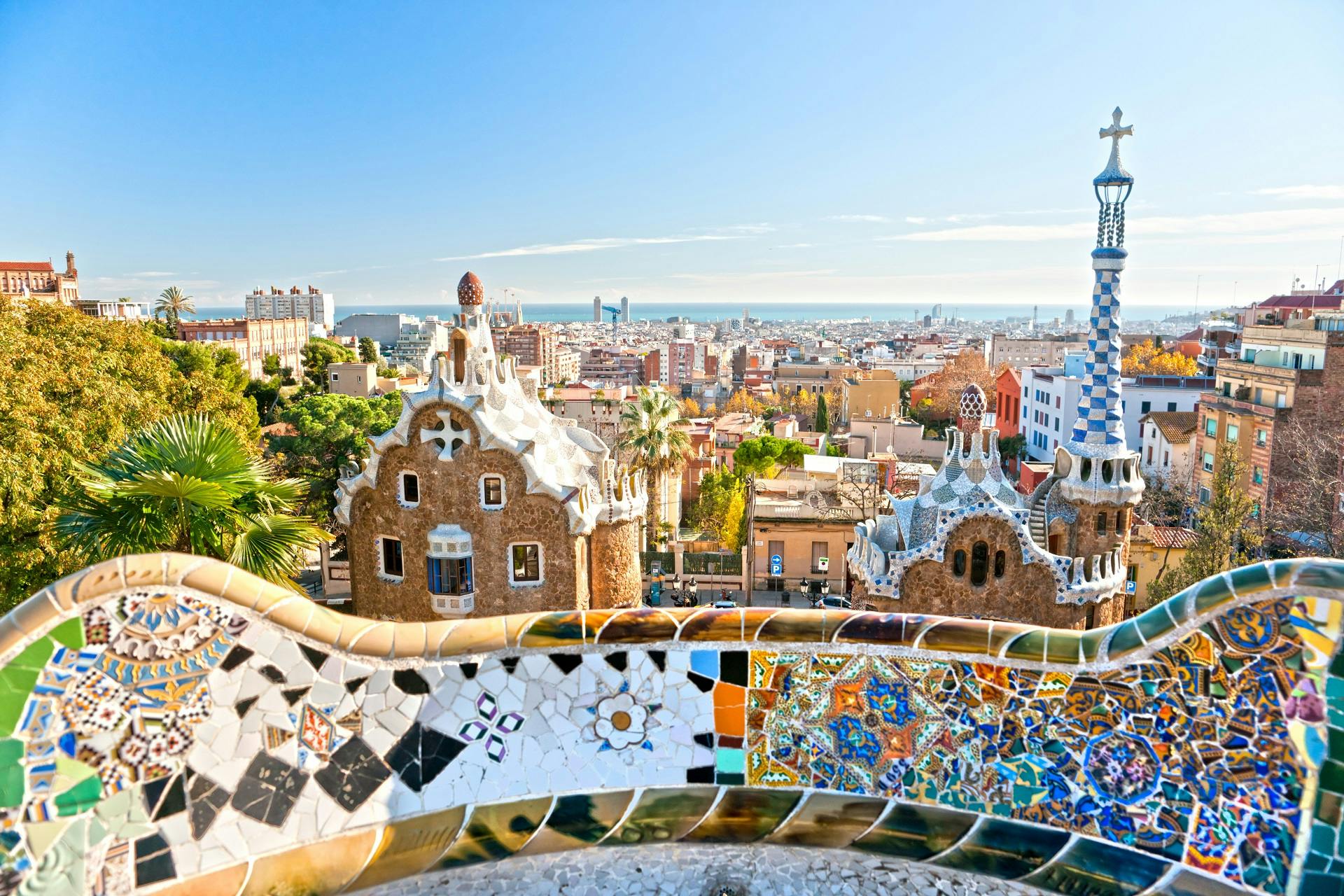 Reviews Park Güell
"Very impressive design. Though still need to purchase ticket inside the monument."
Robert schmitt, 24 Sept 2015