Two of the Costa Blanca's most beautiful inland spots are the star turns of morning excursion. You'll visit the fairytale village of Guadalest and the beautiful Algar waterfalls. Expect amazing scenery and a dramatic drive as you twist and turn along narrow mountain roads.
Duration
from 2 hours to 4 hours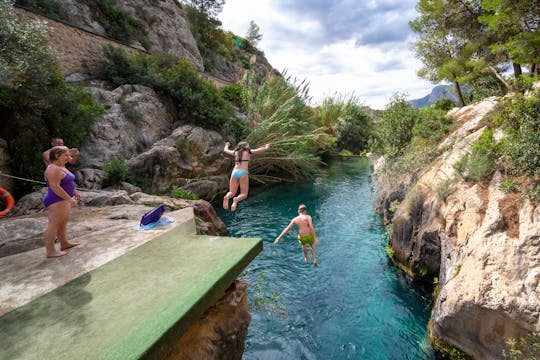 Algar Waterfalls Afternoon Visit
For generations locals have known the Algar waterfalls as 'the source of health', and with a rejuvenating dip in its clear pools of cascading water, you'll discover why. Enjoy a drink at the bar at the foot of the falls or dine alfresco in peaceful picnic spots along the riverbank – it's an afternoon to use as you choose.Although it's only 15km from Benidorm, Algar is a world away in the natural beauty stakes. With cascading waterfalls plunging into pools of pristine water, locals love to cool off with a swim here – and you will too.Beat the heat by wading in gently or plunge in from the diving ledge – it's super refreshing. You can relax along the shaded, pine-covered banks or set up shop at one of the picnic spots. Or if you prefer, why not grab a drink from the bar at the foot of the falls or stop for a bite to eat. Whatever way you spend your afternoon, you'll be sure to enjoy an area so stunning, it's often used as a setting for both TV and film.
Duration
from 2 hours to 4 hours
If you are looking for something a little less ordinary, try this exhilarating excursion for size. But don't worry – it's not as much work as it sounds. Your morning kicks off with a scenic drive high up into the mountains, leaving the bustle of the busy coast far behind.
Duration
from 4 hours to 8 hours
Popular experiences in Benidorm