France
Things to do in Palace of Versailles
A historical monument and UNESCO World Heritage Site, the Palace of Versailles was the principal royal residence of France from 1682. Today, Versailles is home to wonders: the Hall of Mirrors, the grand royal apartments, beautiful gardens and some incredible collections of art, furniture, chandeliers and architecture.
Within the main palace, The Hall of Mirrors is the largest and certainly the best known of the 700 rooms at the Château de Versailles. The large mirrors face the windows, creating a spectacular reflection of the gardens opposite. Their creation is exceptional in more ways than one. Mirrors were then fantastically difficult to make – and hugely expensive. In fact, France had to persuade skilled Venetian mirror makers to teach them the secrets.
The hall has 357 mirrors, filling a space 73m (220ft) long. The Grande Galerie, as it was called in the 17th century, was used daily as a place of passage, waiting room and meeting place to impress visitors such as ambassadors and foreign leaders. Queen Marie-Antoinette celebrated her wedding here and some historic agreements were signed here, such as the Proclamation of the German Empire and the Treaty of Versailles.
In 2007, a three-year comprehensive renovation of the hall was completed, replacing 48 broken or cloudy mirrors with old mirrors from the French Senate. Others had been replaced in the nineteenth century, but around 60 per cent of the mirrors we see today are originals.
To gain some brief respite from courtly etiquette, the kings of Versailles built themselves more intimate spaces close to the main palace. Visit The Grand Trianon, a small palace built of pink marble renowned for its geometric gardens and unique décor. Marie-Antoinette's Estate was built especially for the queen, who liked to get away from the grandeur of the palace for a simpler, more rural ambience. The estate consists of the Petit Trianon, where she lived, the hamlet, and the queen's personal gardens. This is a palace within the palace of Versailles and a real treat.
The famous Gardens of Versailles are an attraction in their own right and took over 40 years to create, involving regiments of soldiers to move earth and create landscapes. Statues and fountains decorate the gardens and are the focus of night-time light shows during the summer months.
Versailles opening times:
April 1 to October 31
Palace: Every day except Monday, from 9am – 6.30pm
Gardens: Every day: 8am – 8:30pm
From 1 November to 31 March
Palace: Every day except Monday, from 9am – 5.30pm
Gardens: Every day: 8am – 6pm
Address
Château de Versailles , Place d'Armes - 78000 Versailles
Getting there
By train:
SNCF Trains
Depart Paris Montparnasse, arrive at Versailles Chantiers
Depart Paris Saint Lazare, arrive Versailles Rive Droite
RER C
Versailles Château Rive Gauche station (buy a pass for Navigo, Mobilis or Paris Visit, including zones 1-4 from Paris). T+ ticket is not valid
RER C line is closed 16 July-27 August between Paris Austerlitz and Javel Reach Javel by Metro
By Metro:
Line 10 from Paris Austerlitz and Saint-Michel Notre Dame (station: Cluny – La Sorbonne)
By car:
A13 motorway, exit at Versailles Centre. Paid parking at the Place d'Armes, Allée de Bailly, Grand Trianon and Petit Trianon
Our recommendations in Palace of Versailles
How to get there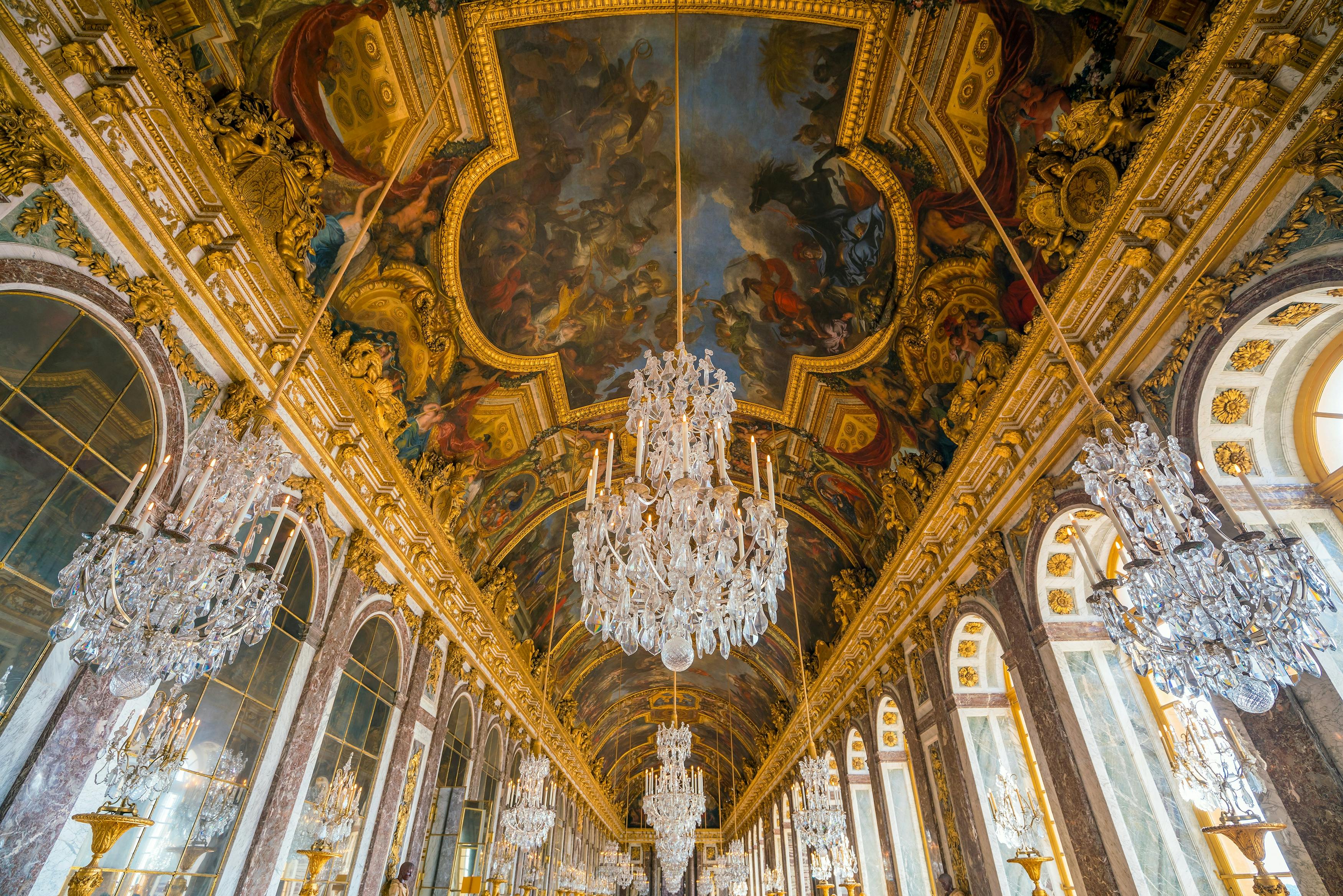 Reviews Palace of Versailles
"My trip to Versailles was everything I imagined and more! Thank you!"
"Very enjoyable day our guide Carlos was very informative. Had a delicious meal at the Trianon restaurant and enjoyed walking round both the Grand and Petit Trianon. Versailles palace was amazing . Finding the City Tours office was very easy. All together a good experience."